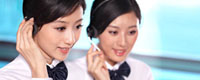 Name: Leon
Tel: +86-13590453830
E-mail: leon@xinsuglobal.com
Add: 3rd Floor, No. 1 Building, C district, 108 Honghu Road, Yanluo Street, Baoan District, Shenzhen
Skype: leon@xinsuglobal.com
WeChat: xinsu_leon
whatsapp: +8613590453830
QQ: 1127752990





Due to the new virus, fatory has been delayed to start. Now, Xinsu Global got the approved by the Goverment to restart!!!