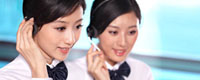 Name: Leon
Tel: +86-13590453830
E-mail: leon@xinsuglobal.com
Add: 3rd Floor, No. 1 Building, C district, 108 Honghu Road, Yanluo Street, Baoan District, Shenzhen
Skype: leon@xinsuglobal.com
WeChat: xinsu_leon
whatsapp: +8613590453830
QQ: 1127752990






Dear friends, ended more than a month at home, Many factories have to restart to production though the production is bery slow. but I think will back to the normal life soon in China.
Here is our experience in preventing the virus.

1.Don't go to the corwed places
2. Use the face masks when have to go out to prevent the droplet spread
3.Wear the disposable gloves to prevent the touching spread.

Please pay much attention on this coronavirus, it is highly contagious through the droplet and toughing.
Once need any help, just please contact us, we company will do our best to help you.