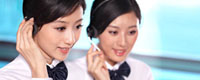 Tel: +86-13590453830
E-mail: [email protected]
WeChat: xinsu_leon
whatsapp: +8613590453830



Product name : 3pin 300W 36V 42V 7A lithium battery chargers

Product No. : XSG4207000
Details:
1. ETL UL FCC PSE GS SAA certificated 3pin 300W 36V 42V 7A lithium battery chargers: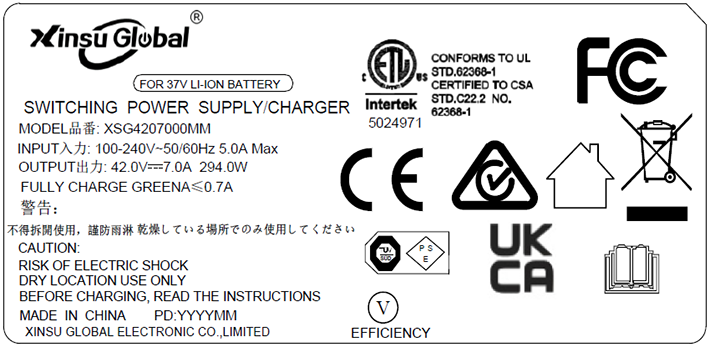 Large power 300W 42V 7A lithium battery charger used for the 10s 36V/37V lithium battery pack, MCU control with pre-charging function and cutoff current when fully charge the battery.
2. Electrical Performance:
Certificated by the safety certifications below:
Certifications

Country

Safety Standards

ETL/UL/CUL

USA/CA

UL/CSA60950-1,UL/CSA62368-1

LVD/GS

Germany

EN60950, EN62368
EN61558, EN60335

PSE

Japan

J-60950-1,J61558

FCC

USA

FCC Part 15 Sub-part B

CE EMC

Europe

EN55032, EN55024,EN55020
EN61000, EN55014

KC

Korea

K60950-1,K62368-1

SAA/RCM

Australia

AS/NZS 62368,

AS/NZS 61558,AS/NZS 60335
PSB
Singapore
IEC-61558-2-16

3.Input Feature:
Input Voltage: 90Vac-264Vac
Rated Input Voltage: 100Vac-240Vac
Input Frequence:47Hz-63Hz
Input Current:5A
Inrush Current: 60A
Efficiency higher than 87%,No-load input power dissipation 0.5W
4.Output Feature:
3pin 300W 36V 42V 7A lithium battery chargers with LED charging status indicator, LED turn red to green when fully charge.
Charging Status

Charging Stage

Output current

Output voltage

LED indicator




Charging

Constant Current

7A

25V-42V

红灯

Constant Voltage

7A->0.7A

42V

红灯

Fully charge

Trickle Charging

0.7A->0

42V

绿灯
5. Charging Curve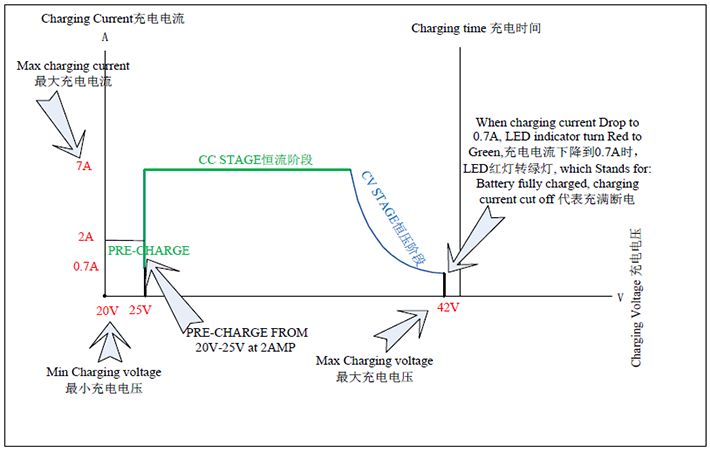 6. Protection Feature
Over current protection, Over voltage protection, Short circuit protection,
Reverse polarity protection(Optional), Anti-backflow protection, pre-charging function
7. Dimensions:L176*W80*H47mm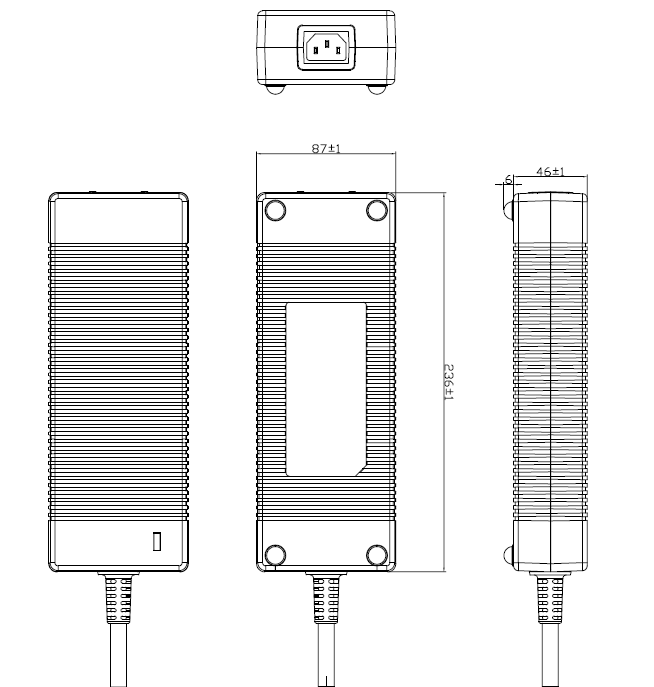 8.Other 42V battery chargers

MODEL
INPUT
OUTPUT
VAC
W
V
mA
XSG4200300
100~240
12.6
42
300
XSG4200400
100~240
16.8
42
400
XSG4200500
100~240
21.0
42
500
XSG4200600
100~240
25.2
42
600
XSG4200700
100~240
29.4
42
700
XSG4200800
100~240
33.6
42
800
XSG4200900
100~240
37.8
42
900
XSG4201000
100~240
42.0
42
1000
XSG4201250
100~240
52.5
42
1250
XSG4201500
100~240
63.0
42
1500
XSG4201750
100~240
73.5
42
1750
XSG4202000
100~240
84.0
42
2000
XSG4202250
100~240
94.5
42
2250
XSG4202500
100~240
105.0
42
2500
XSG4203000
100~240
126.0
42
3000
XSG4203500
100~240
147.0
42
3500
XSG4204000
100~240
168.0
42
4000
XSG4204500
100~240
189.0
42
4500
XSG4205000
100~240
210.0
42
5000
XSG4205500
100~240
231.0
42
5500
XSG4206000
100~240
252.0
42
6000
XSG4206500
100~240
273.0
42
6500
XSG4207000
100~240
294.0
42
7000
9. Factory and workshop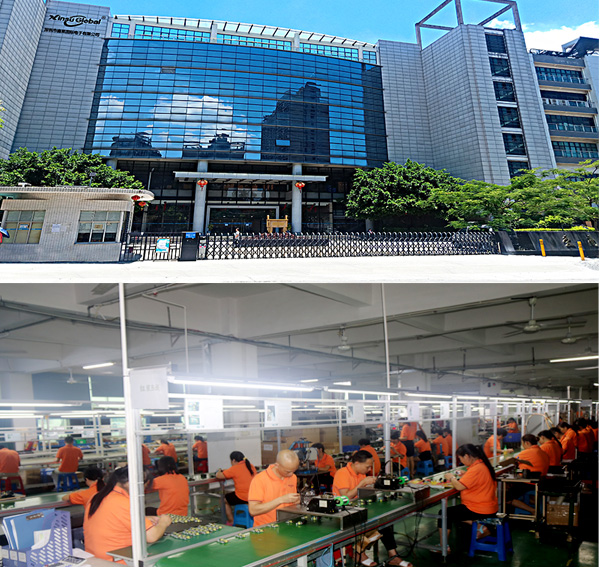 10. Production test equipment

11. Producton process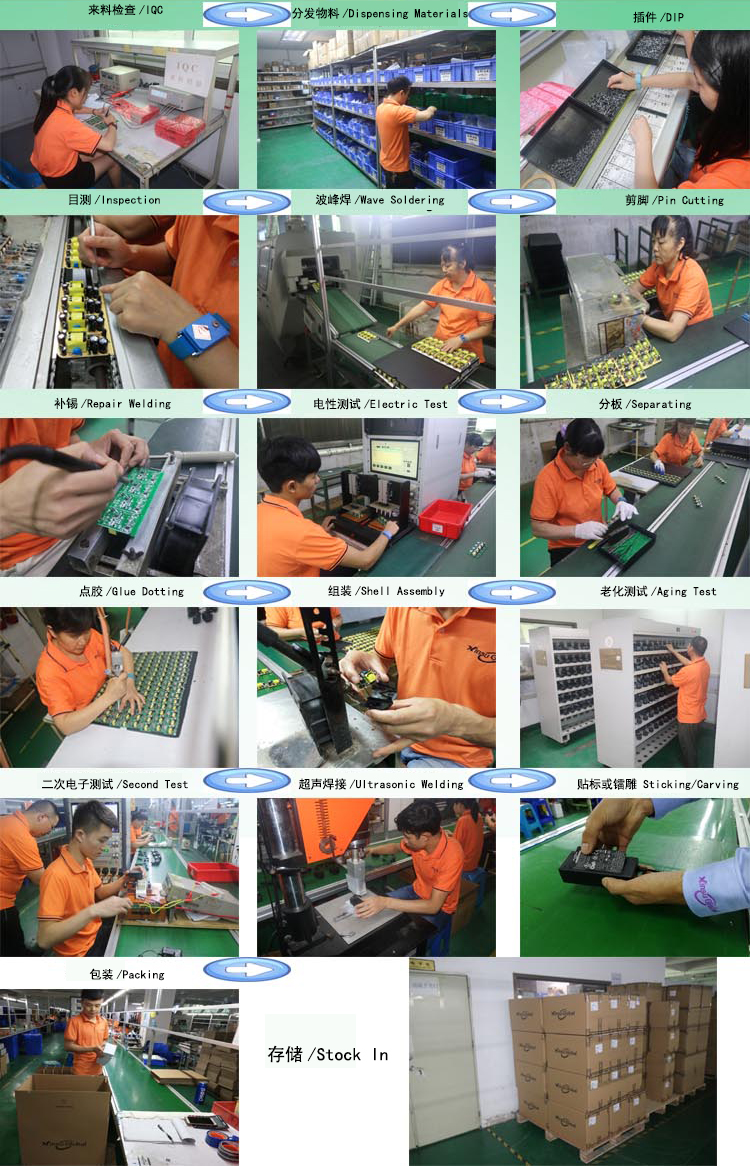 12. Exhibitions